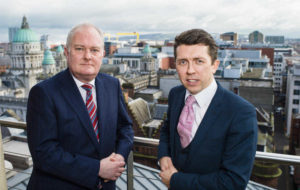 BELFAST-based lending platform GDP Capital says it is providing "new working capital and much-needed funding" to a range of small businesses in various business sectors across Northern Ireland.
Following on from the company assisting in the major refinancing of a property portfolio late last year, which involved capital investment of over £100 million, more deals have followed.
In the last three months alone projects have included lending more than £3.5 million to assist six local companies.
The monies were drawn down for the development of a wind farm, the refinancing of a property portfolio, the acquisition of business premises, a bridging loan to purchase a development site, and to meet one SME's need for additional working capital.
Part of GDP Partnership, GDP Capital is a privately-owned investment platform which has been successful in attracting a suite of lenders to provide for the business community in Northern Ireland.
Its founding partner James Gibbons said: "GDP Capital was set up to introduce new capital partners into the Northern Ireland market place to assist borrowers and SMEs.
"Many of those that have engaged with us of late have been able to secure the appropriate capital required enabling them to push on with their own business plans, which is great news for everyone. We are filling the void currently not funded by the banks with loan-to-value lending as opposed to loan-to-cost.
"We've been surprised by the sheer volume of businesses that require assistance and are delighted to be able to share in their success by securing capital. This shows that there is finance available. It also shows there is now a genuine appetite from the non institutional network to fill the funding void here."
Fonte: irishnews.com
Commenti