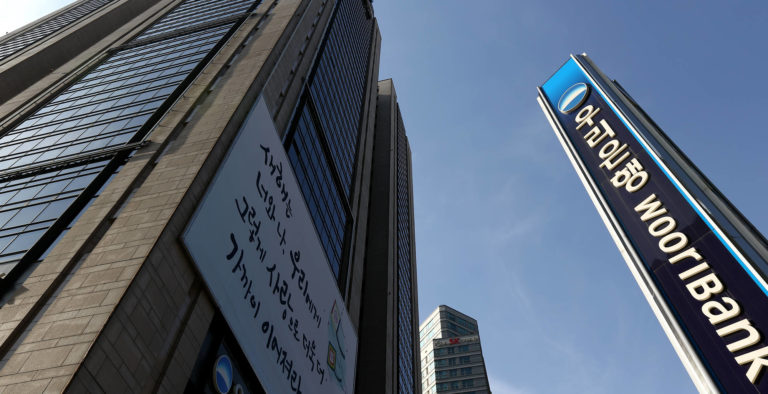 Sale to seven investors part of a bid recoup some of the taxpayer money spent bailing out the lender some two decades ago
SEOUL—South Korea's government has sold a $2.1 billion stake in Woori Bank to multiple investors in its latest bid to privatize the lender and recoup some of the taxpayer money it pumped in to bail out the lender some two decades ago, according to the country's top financial regulator.
The Financial Services Commission said Sunday that the sale of the 29.7% stake in tranches to seven successful bidders, including Chinese-owned Tong Yang Life InsuranceCo., will reduce state-run Korea Deposit Insurance Corp.'s share in Woori to 21% from 51% previously.
The Korea Deposit Insurance can collect another 2.4 trillion won ($2.1 billion) from the latest stake sale, raising the total of recouped bailout money to 10.6 trillion won—83.4% of the public funds injected into Woori.
The FSC said the government would continue efforts to sell its remaining share in Woori and keep its promise to return the bank to private hands as soon as possible.
The Seoul government spent 12.8 trillion won of taxpayers' money to bail out troubled local financial firms in the wake of the 1997-1998 Asian Financial Crisis. Woori was established in 2001 as their holding company. The Korea Deposit Insurance Corp. once owned 100% of Woori but gradually cut down its holdings in favor of privatization.
The seven successful bidders for the latest Woori stake up for sale are Tong Yang Life Insurance owned by China's Anbang Insurance Group, Eugene Asset Management,Hanwha Life Insurance, Kiwoom Securities, IMM Private Equity, Mirae Asset Global Investments and Korea Investment & Securities. The stake is sold in tranches of 3.7%-6% each to them, the FSC said.
wsj.com
Commenti